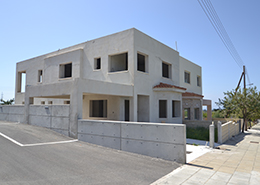 During the past years a significant housing development has been observed in Ayia Varvara. The location of the village and the developmental projects effectuated by the Community Council constituted only some of the factors that have led to this housing development.
The prominent location of Ayia Varvara has greatly contributed to the development of the community. In particular, it only takes a 7-minute drive to get from Ayia Varvara to the city of Pafos, while the community also benefits from the area's road network since the motorway leading from Pafos to Limassol passes right next to the community.
The development of the Community has also been assisted by the two industrial zones, but what has really attracted younger residents is the provision of plots available for the construction of a residence. The aforementioned plots are provided by the Cyprus Land Development Corporation based on certain criteria.
Finally, the area's cool climate, beautiful natural environment and fertile land have also contributed to the housing development of the Community.
Source:
Community Council